Matthew Leonard
Science of Sainthood Pilgrimages
Matthew Leonard is an international speaker, author, podcaster, and founder of the Science of Sainthood, an online teaching platform focused on transformative prayer and authentic spirituality. An accomplished filmmaker, he has written, produced, directed, and hosted multiple best-selling series which have been translated into almost a dozen languages. Matthew is a former missionary and convert to Catholicism and appears regularly on radio and television programs across the country like EWTN, Relevant Radio, and SiriusXM. His own popular podcast, 'The Art of Catholic," is listened to around the world. Matthew holds a Masters in Theology from Franciscan University of Steubenville and lives in Ohio with his wife Veronica and their six children. Learn more about him at MatthewSLeonard.com.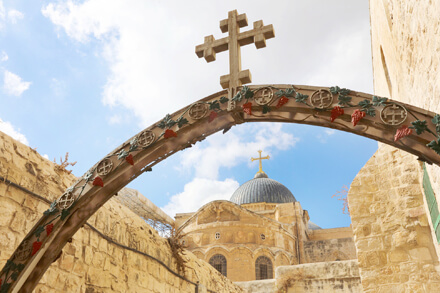 Luxury Holy Land Pilgrimage
Spiritual Director: Fr. Paul Moreau
Tel Aviv * Jerusalem * Temple Model * Ein Karem * Bethlehem * Mount Tabor * Nazareth * Cana * Mount of Olives * Gethsemane * Mt. Zion * St. Peter in Gallicantu * Tiberias * Sea of Galilee * Tabgha * Mount of Beatitudes * Capernaum * Via Dolorosa * Church of the Holy Sepulchre * Old City Tour of Christian Quarters * St. Anne's * Pool of Bethesda * Western Wall * Jewish Quarters * Mount of Olives * Jericho * Jordan River * Bethany * Dead Sea * Caesarea * Stella Maris (Haifa) * Emmaus
| Duration | Destination | Date |
| --- | --- | --- |
| 10 Days | Israel | March 5 - 14, 2023 |
Join "Science of Sainthood Catholic Academy" Founder, renowned Author & Speaker Matthew Leonard of a "Special" Luxury Pilgrimage to the Holy Land. For eight (8) nights, in your Five Star Hotel, you will call Jerusalem "home" as you explore the Holy Land in luxury. Unpack once, to make the most of your experience in this Sacred place. Witness the Scripture come alive and focus solely on deepening your faith and connection to Jesus through the life changing act of Pilgrimage. Celebrate Mass Daily as well as exclusive lectures from Matthew Leonard.
TOUR DETAILS or BOOK NOW
"Matthew Leonard is possibly the finest speaker on the spiritual life out there these days." Fr. Rich Simon, Host of Relevant Radio's "Fr. Simon Says" Fr. Rich Simon, Host of Relevant Radio's "Fr. Simon Says"
"I'm not exaggerating. Not since Fulton Sheen have I heard a speaker so effective at motivating ordinary Catholics to step up their prayer lives and take their faith more seriously." Mike Aquilina, Best-Selling Author & EWTN Personality
"Make no mistake...Matthew Leonard is the guy with whom you want to travel." Curtis Mitch - Speaker & Author of the Ignatius Catholic Study Bible Commentary