Miracle Hunter & Michael O'Neill
Lithuania & Poland Pilgrimage
Celebrate the Anniversary of St. John Paul II's
Feast Day and Papal Inauguration
October 14 - 24, 2020
MH101420
slider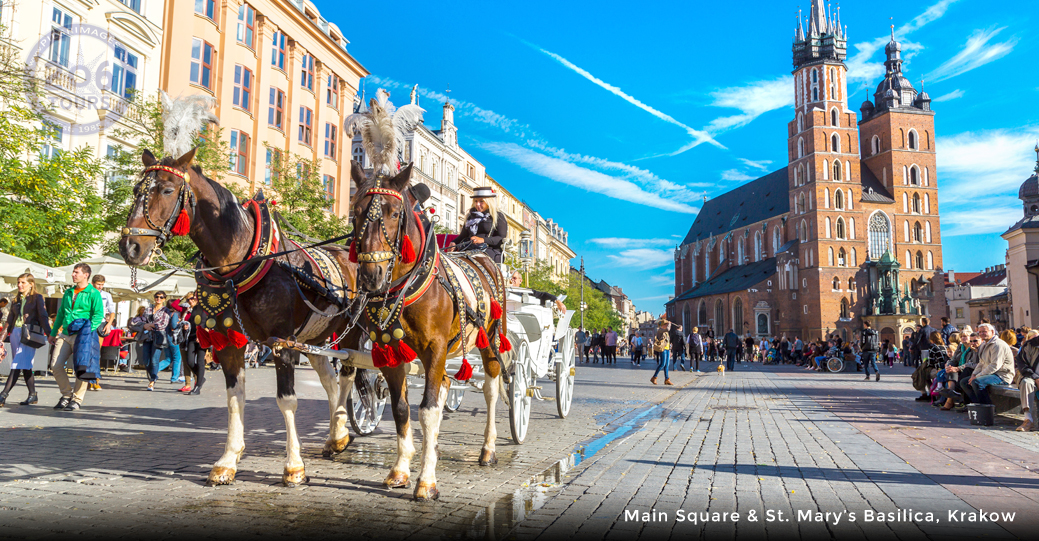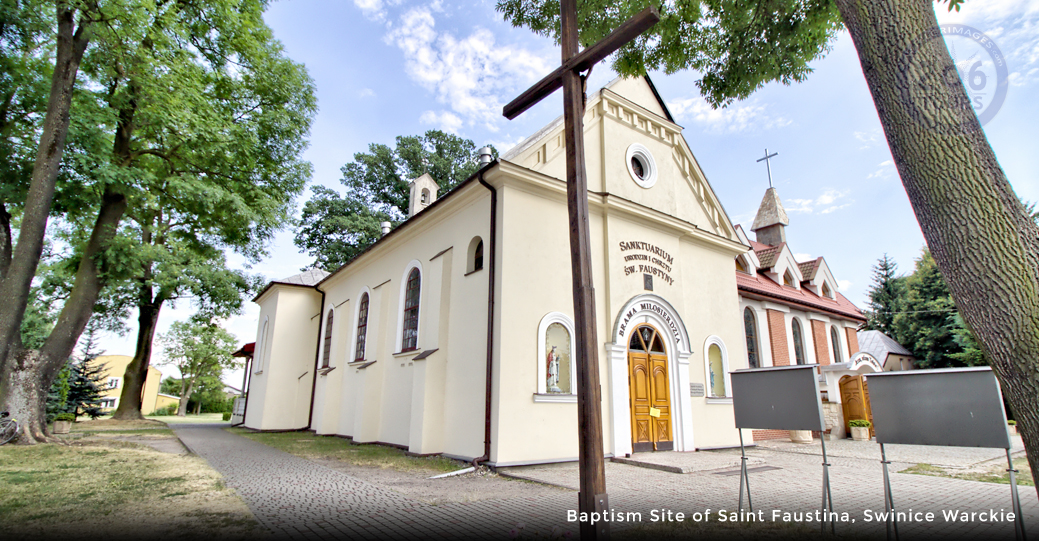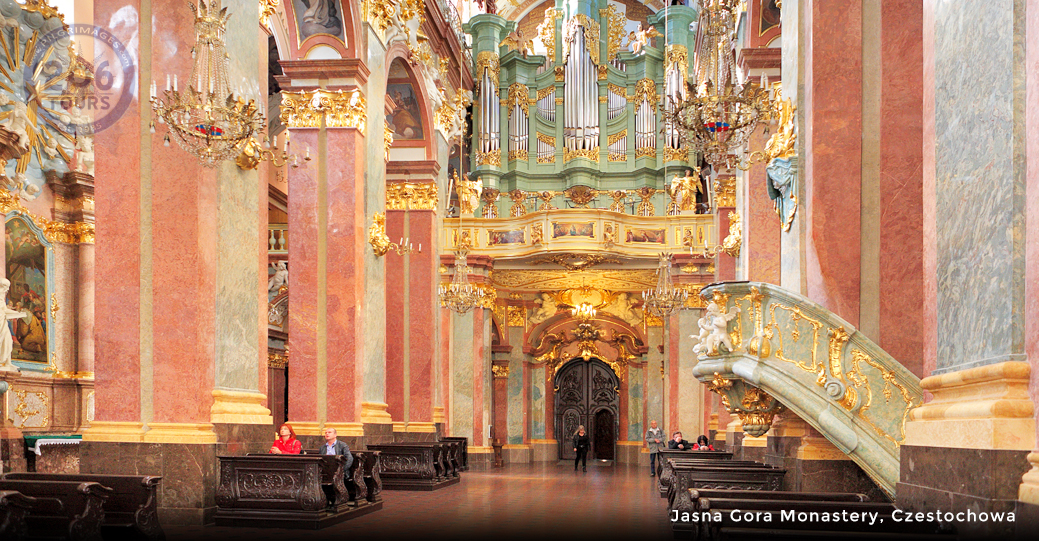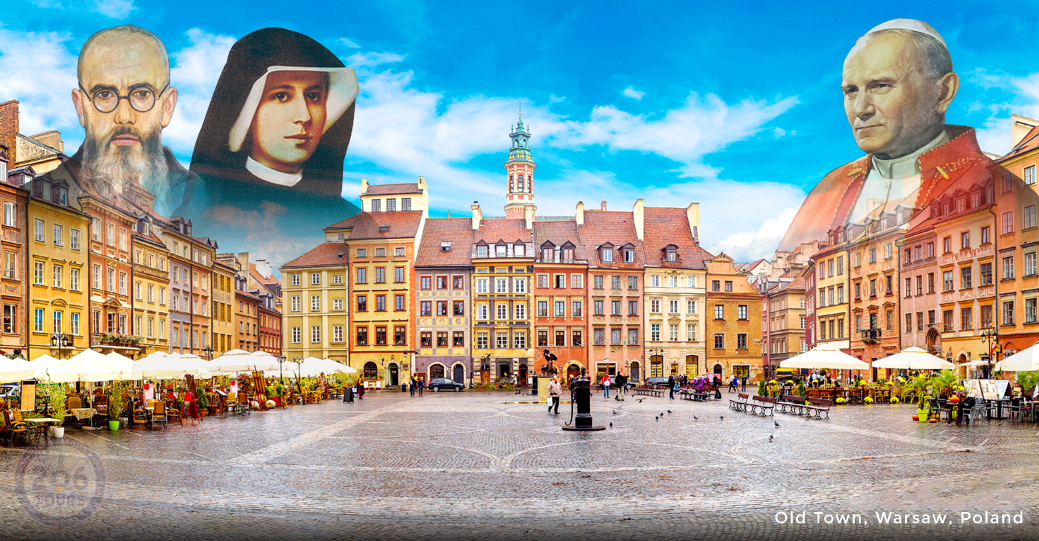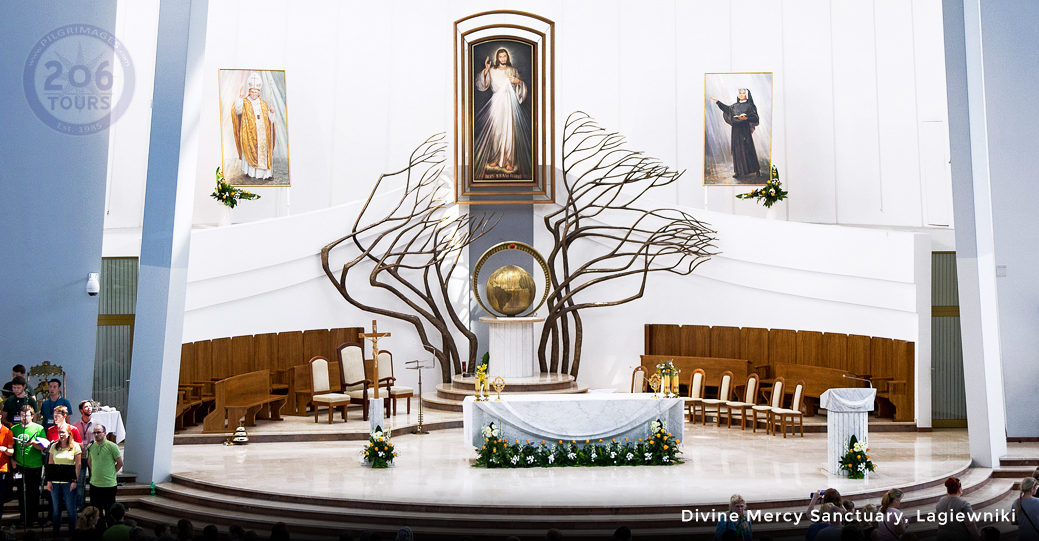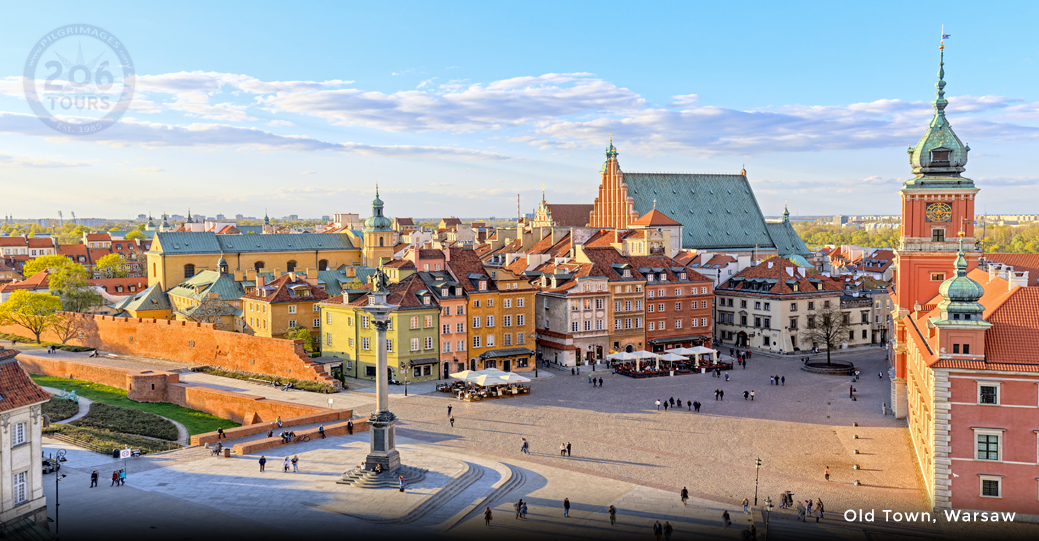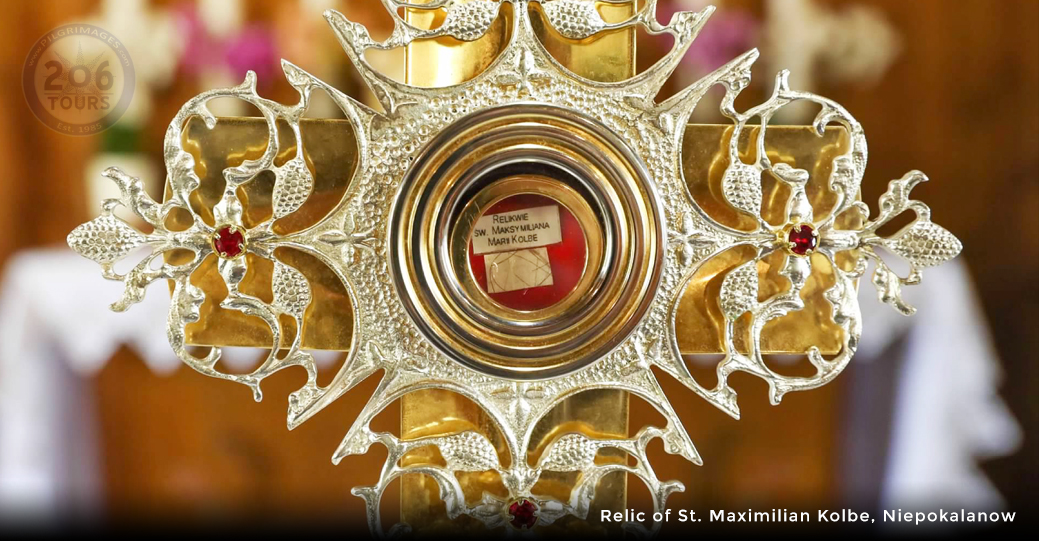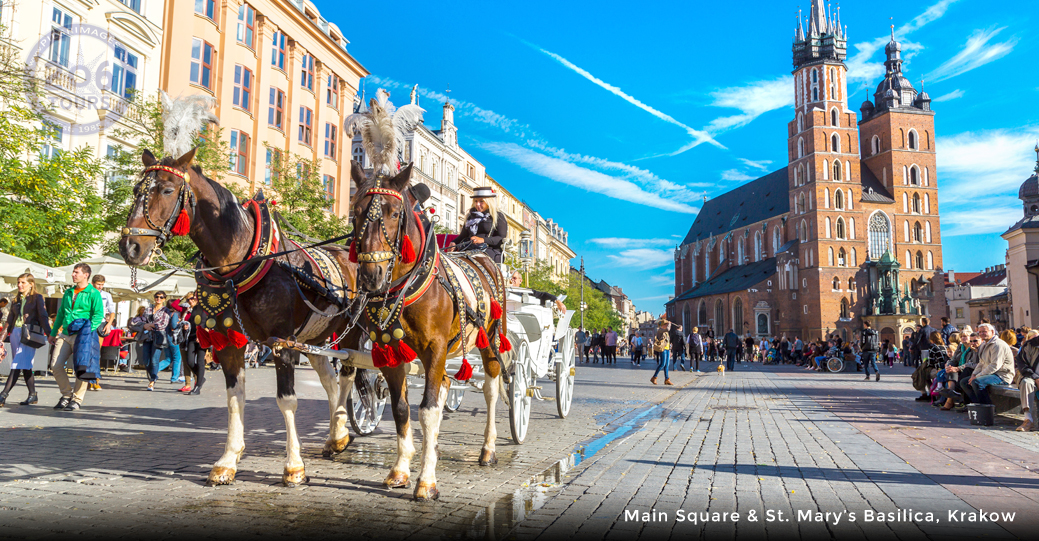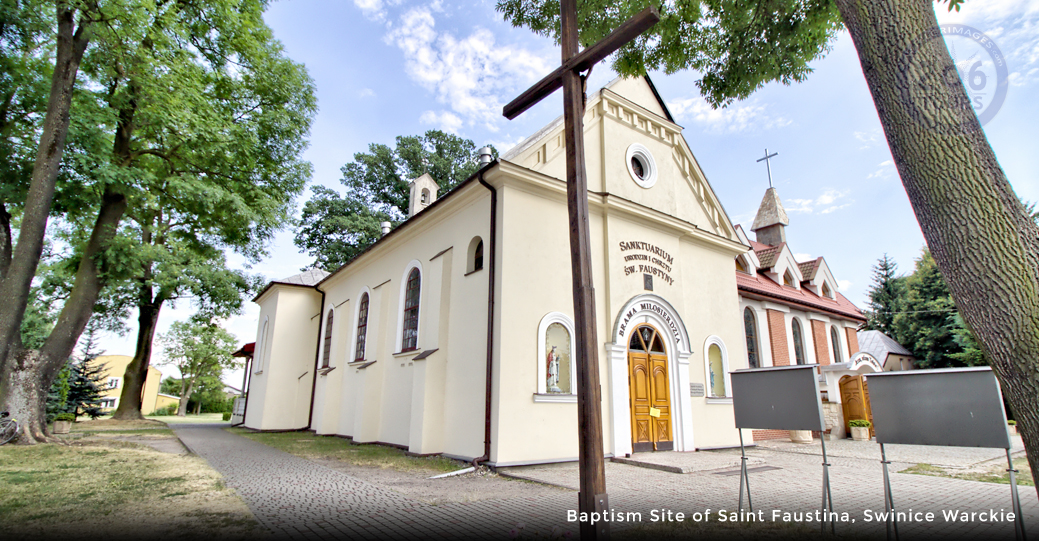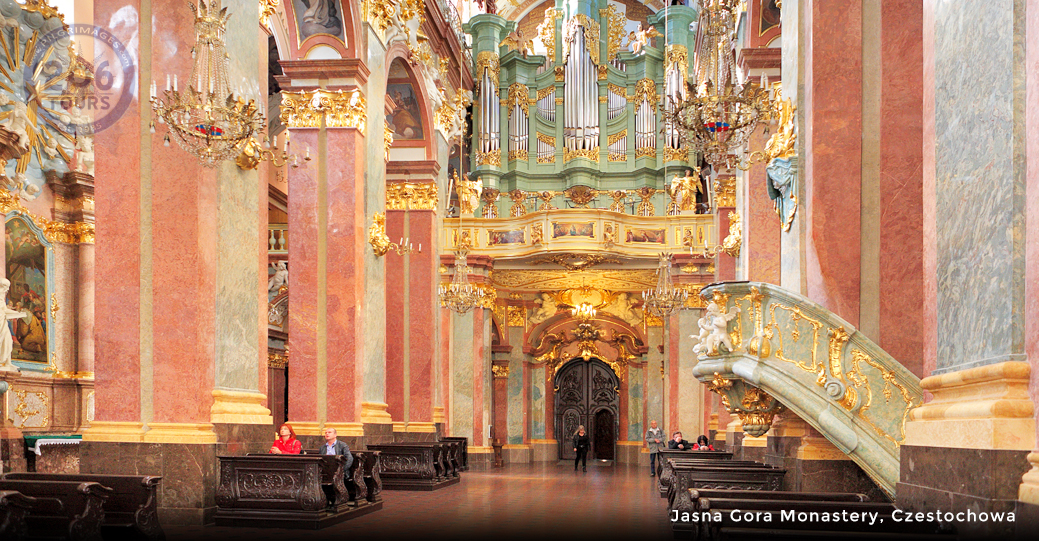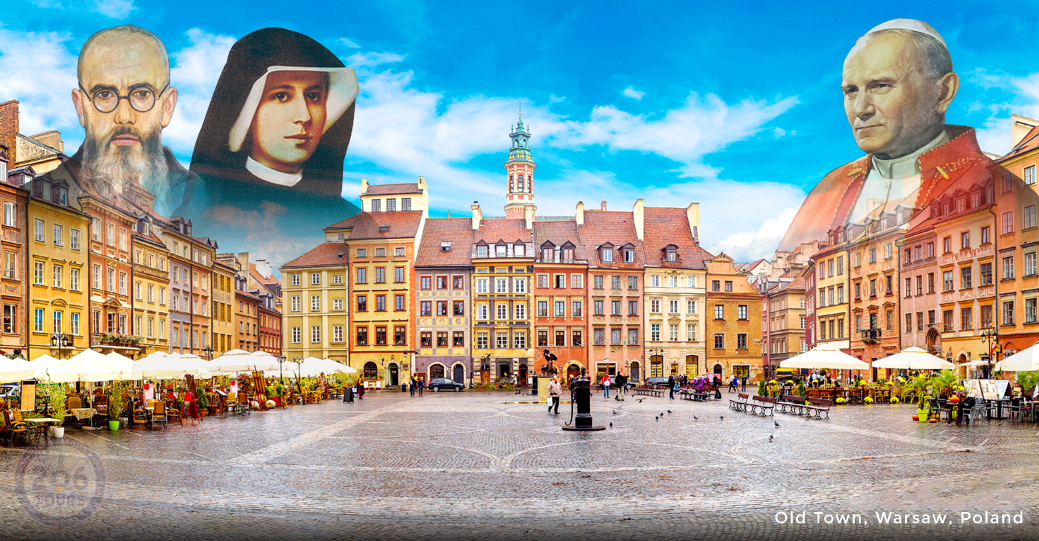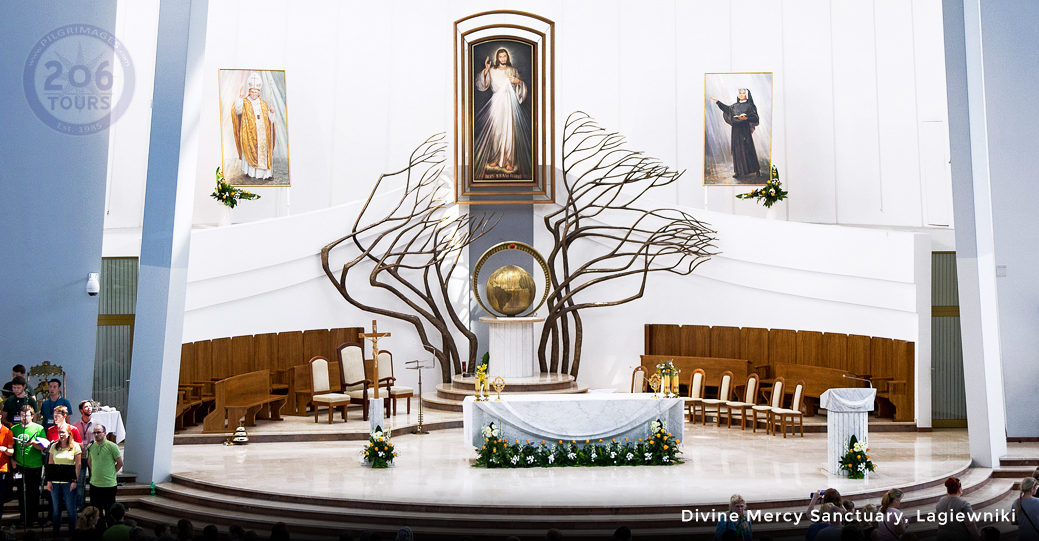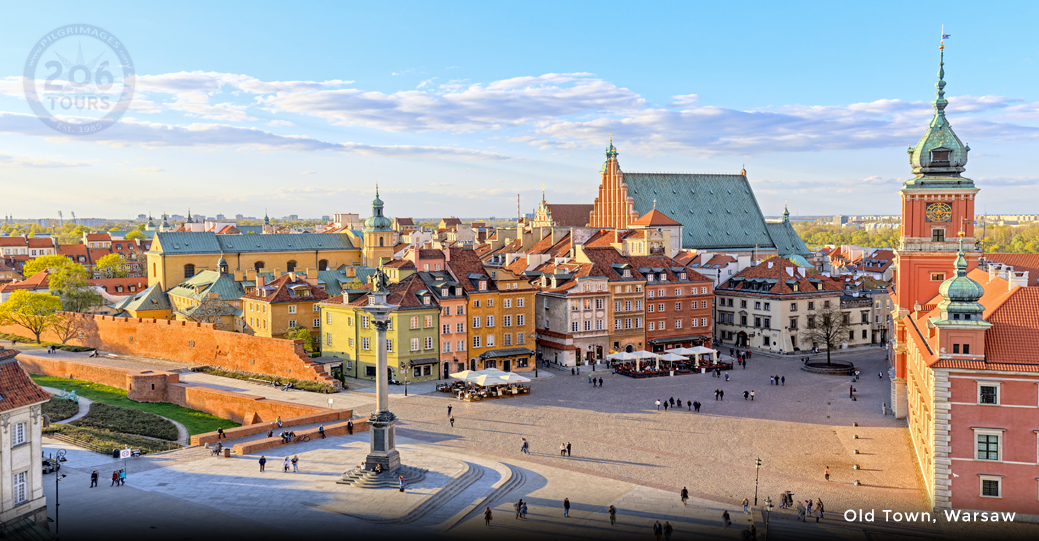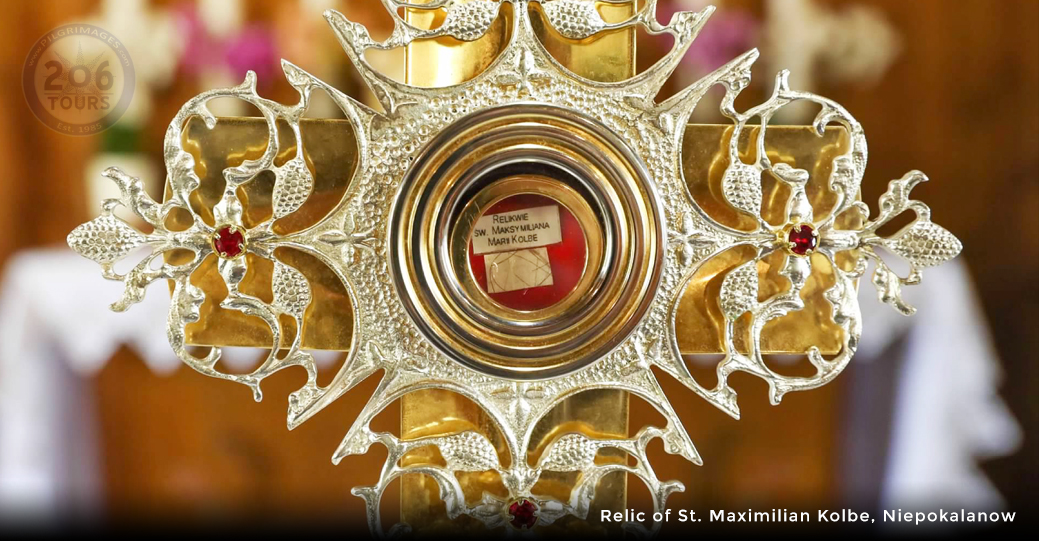 Vilnius · Siaulai · Siluva · Sokolka · Augustow · Gietrzwald · Lichen · Legnica · Wroclaw · Czestochowa · Krakow · Kawaria Zebrzydowska · Wadowice · Lagiewniki
Join Relevant Radio and EWTN television host "Miracle Hunter" Michael O'Neill on a special pilgrimage to Lithuania & Poland celebrating the Feast Day of Pope St. John Paul II in the Centennial 100th year of his birth! Explore places of miracles like Lagiewniki, where St. Faustina experienced the Divine Mercy visions, and Czestochowa, home of the famed miraculous icon of the Virgin Mary. See the most renowned sites of Poland's Church-approved Marian apparitions like Gietrzwald, Lichen and Siluva, modern Eucharistic miracles like Sokolka and Legnica, and more! Visit Krakow and St. John Paul II's hometown of Wadowice for his feast day. O'Neill will give presentations to the pilgrims on the histories of Poland's most famous miraculous events and share a behind-the-scenes look at his research into miracles for National Geographic magazine, his Relevant Radio and EWTN programs "The Miracle Hunter" and "They Might Be Saints" and appearances on television like EWTN, NBC's Today, The Dr. Oz Show and NatGeo.
Michael O'Neill
Click to Enlarge
DATES & PRICES
Any questions? Contact Us: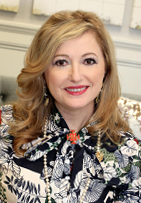 Milanka

LC*HS, President & Founder

1(800)-206-8687
Your trip includes
Round-trip airfare
Airport taxes & fuel surcharges
Accommodations at Centrally Located Hotels throughout:

~ 3 nights: Novotel Vilnius Centre, Vilnius

~ 1 night: Hotel Warszawa, Augustow

~ 1 night: Hotel Atut, Lichen

~ 1 night: Q Hotel Plus, Wroclaw

~ 3 nights: Q Plus 4, Krakow

Meals:

~ Breakfast Daily at Hotel (Buffet)

~ 3 Lunches

~ Dinner Daily (Sit-Down, 3 Course), *Glass of wine, or beer, or soft drink with dinners

Transportation by private air-conditioned 49-seater coach
Professional English-speaking tour escort
Luggage Handling / Porterage service at hotels (1 pcs of luggage per pax)
Whisper Headsets throughout the Tour
Sightseeing/Admission Fees with local guides as per itinerary:

- Jasna Gora Monastery in Czestochowa, Wawel Cathedral in Krakow, St. Mary's Church in Krakow, St. John Paul II Museum in Wadowice

Free Wi-Fi on the bus
Centrally located hotels or similar
Novotel Vilnius Centre
Vilnius
3 Nights
Hotel Warszawa
Augustow
1 Night
Hotel Atut
Lichen
1 Night
Q Hotel Plus
Wroclaw
1 Night
Not included
Lunches not mentioned, Tips to your guide & driver.
Providing you coverage for both pre-existing conditions and those that may arise during your trip, including medical and dental emergencies, loss of luggage, trip delay, and so much more.
A Cancellation Waiver - allowing you to cancel your trip and receive a refund anytime - up until 24 hours prior to departure. The "Waiver" expires once you are within 24 hours of departure.
Itinerary
Day 1, Wednesday - October 14 - Depart for Vilnius
Make your way to your local airport where you will board your overnight flight(s) to Vilnius. Your meals will be served on board.
Day 2, Thursday - October 15 - Arrival Vilnius
Welcome to Vilnius! Upon arrival, make your way to the baggage claim area and collect your luggage. Proceed to the Arrival's Hall, where you will be greeted by your tour guide and/or driver. Transfer to your hotel. Following check-in at your hotel, your pilgrimage will officially begin with Mass. Following Mass, enjoy a delicious dinner before retiring for a restful overnight.
Day 3, Friday - October 16 - Vilnius
Following breakfast, we will depart for a sightseeing tour of Vilnius, including: Gate Dawn, the Old Town, Church of St. Peter and Paul, the Church of St. Anna and Bernardine Monastery. You will also see the Courtyards of the Jesuit University (oldest University in the Baltic states and largest in Lithuania), and the Medieval Castle, as well as the Divine Mercy Shrine. The first image of Divine Mercy, revealed to mankind in the message of Divine Mercy and painted at the request of Jesus, according to Sister Maria Faustina Kowalska's vision in 1934, was painted here by the artist, Eugene Kazimirovski in the presence and under the instruction and direction of Saint Faustina herself and her spiritual director: Father Michael Sopocko. You will have free time for grab lunch on your own, and the remainder of the afternoon free to spend at your leisure. We will meet in the evening for dinner, and a restful nights sleep at the hotel.
Day 4, Saturday - October 17 - Vilnius - Siaulai - Siluva - Vilnius
After breakfast, we will depart the hotel for an excursion to the city of Siauliai to visit the Hill of Crosses. A place of pilgrimage for centuries, it is covered in thousands of crosses, large and small, many in an elaborate folk-art style. Despite being bulldozed three times by the Soviet authorities, the crosses quickly reappeared each time. The crosses were placed to commemorate those killed or deported to Siberia, and also killed in the peasant rebellion. We will celebrate Mass at the nearby Franciscan Monastery which was visited by St. John Paul II on his pilgrimage to Lithuania. After lunch, we will continue on to the most important place among pilgrims, Siluva. Here, we visit the sanctuary of Our Lady of Siluva. Catholic history dates back to 1457 in Lithuania, when the first Church was built on land given to the Catholic Church. The diplomat who gave the land, Peter Giedgaudas, traveled to Rome and returned with a painting of the Blessed Virgin Mary holding the child Jesus. It was put on display in the sanctuary of the Church. In 1570, the Calvanists made it known they planned to take over the Church, so the Parish Priest, Father John Halubka, hid the important documents and image under a rock near the Church. The Church was destroyed, and 20 years later, they were able to re-posses the property if they could provide paper work confirming they owned it. In 1608, several children who were tending sheep saw a beautiful lady standing on a rock near the Church, crying. The children fled, but returned the next day, and when asked why she was crying - she replied that the spot where her Son was worshipped and adored is now only used for farming. News spread of this apparition, and a nearly blind man led the people to the spot where the chest was buried containing the paperwork and image. When the Soviets took over, they banned Mass, but pilgrims still flocked there and celebrated in secret. Return to Vilnius for dinner and overnight at hotel.
Day 5, Sunday - October 18 - Vilnius - Sokolka - Augustow
After an early breakfast at our hotel, we depart for Sokolka to visit the Eucharistic Miracle that took place in St. Anthony of Padua Church on Sunday, October 12th, 2008. A consecrated Host dropped onto the floor, and the Priest placed the Host in a vascular with some water. After Mass, the content was transferred to a vessel and locked up in the safe. A few days later, the Sister in charge found a one (1) centimeter long, bloody flesh like substance in the center of the Host. After that, the Archbishop ordered the Host to be placed on a corporal and placed inside the Tabernacle. The substance dried up and became a crust. On August 5th, 20019 - a sample was taken for analysis, and the red crust shows human heart muscle, connected with the still well-preserved Host. We will celebrate Mass at the Shrine, and then continue on to the town of Augustow, which has attracted many visitors each year, most notably, to the Oficerski Yacht Club Hotel, which was built in the 1930's that was transformed from a Army Yacht Club. Located on the edge of one of the many lakes in the region, Saint John Paul II has a memorial chair from the first, and last, time he visited the town.
Day 6, Monday - October 19 - Augustow - Gietrzwald - Lichen
This morning, you will have breakfast and continue on to Gietrzwald - also referred to as "The Lourdes of Poland". While not as famous as Lourdes, this Shrine is a major pilgrimage destination in Poland. It dates back the 16th Century, although the apparition itself took place between June 27th and September 16th of 1877, within a few years of the apparitions of Our Lady in Lourdes and La Salette. Our Lady appeared to a young girl on that first day, said to have been surrounded by angels within a bright light, and Our Lady requested that she return the next day. She did, but with a friend as well, and Our Lady appeared to both of them, holding the baby Jesus in her lap. For the next ten (10) weeks, the apparitions took place daily, always with the same message: "Pray the Rosary". The girls were instructed to go to a nearby spring, and she would bless it for the healing of both physical and spiritual maladies. As word spread, people flocked to the shrine, and by September 8th - they counted 50,000 pilgrims. An investigation was begun after the apparitions ceased, examining the girls separately. Previously, their physical state during the apparitions was also recorded. The apparitions were finally approved in 1977, one hundred (100) years after they began. The Church was then designated as a Basilica Minor by Pope Paul VI in 1970. Arrive at your hotel for check-in, dinner, and overnight.
Day 7, Tuesday - October 20 - Lichen - Legnica - Wroclaw
After breakfast, we will visit the Shrine of Our Lady of Sorrows, Queen of Poland, as well as the Basilica of Our Lady of Lichen. From there, we continue on to Legnica, with a stop for lunch along the way. Our first visit will be to the Church of St. Jack. A Eucharistic Miracle took place here on December 25th, 2013 - where a sacred Host fell to the floor and was picked up and placed in a container of water. After some time, it began to give a red appearance. The final judgement of the Department of Forensic Medicine states "The histopathological tissue fragments were found containing a fragmented part of the skeletal muscle. The whole image is most similar to the heart muscle, as it appears under the strains of agony. Genetic studies indicate the origin as human tissue." Celebrate Mass here, and then continue on to Wroclaw. Check in to your Hotel, followed by a panoramic tour of the hometown of St. Edith Stein. Return to the Hotel for dinner and overnight.
Day 8, Wednesday - October 21 - Wroclaw - Czestochowa - Krakow
After breakfast, we will check out of our hotel and drive to Czestochowa. Upon arrival, you will have some free time to grab lunch on your own, then continue to Jasna Gora Monastery. This hill top Monastery is home to the beloved icon of the Black Madonna. Additionally, St. John Paul II is said to have made frequent visits throughout his life. Tradition tells us that this icon was painted by Luke the Evangelist, discovered by St. Helen, and later enshrined. While here, you will have the opportunity to venerate not only the Holy Icon, bt almost many other priceless treasures that are contained within. Celebrate Mass here in one of the Chapels, and then continue on to Krakow. Check in to your Hotel, enjoy dinner, and then retire to your room for a restful nights sleep.
Day 9, Thursday - October 22 - Krakow - Kawaria Zebrzydowska - Wadowice - Krakow (Happy Feast of St. John Paul II)
We will have breakfast at our hotel and depart to Kalwaria Zebrzydowska and visit the Sanctuary in Kalwaria Zebrzydowska. We will visit the Sanctuary, which was a popular pilgrimage place for St. John Paul II when he was a young man. It was in the 17th century that the Palatine of Krakow founded the Franciscan Monastery. On the slope of the hill and the valley is an architectural "Way of the Cross" made up of 40 Chapels set on the surrounding hills. From there, we continue on to Wadowice to visit the birth place of Saint Pope John Paul II, and the local parish church (Church of the Presentation of the Virgin Mary) where he was baptized at and celebrate the Mass. After Mass, we will tour the birthplace of St. John Paul II, and his childhood home (which is now a museum). You will have some time to grab lunch on your own before we continue on to Krakow for dinner where we will celebrate St. John Paul II's Feast Day - and the Anniversary of his Papal Inauguration. Return to your room for a restful nights sleep.
Day 10, Friday - October 23 - Krakow - Lagiewniki - Krakow
After breakfast, we will depart for Wawel Hill to see the Wawel Royal Castle and visit the Cathedral which is one of the most beautiful renaissance residences in central Europe. Continue on to Krakow's Old Town to see the main Market Square, the Church of St. Mary, Cloth Hall, City Hall Tower, Kanonicza Street where St. John Paul II resided while living in Krakow, and the Collegium Maius where he was a student. You will have some free time to get lunch on your own, and then drive to Lagiewniki, the capital of Divine Mercy. It was here that the message of the Divine Mercy originated, which Christ Himself wished to pass on to our generation through the mediation of St. Faustina. Celebrate Mass and visit the new center of Pope John paul II to see the displayed relic of Blessed Pope John Paul II. It is part of his robe with a bloodstain on it from when he was shot in 1981. The Sanctuary houses the grace-working image of Merciful Jesus and the relics of St. Faustina. We will visit the Shrine of Divine Mercy, St. Faustina's convent chapel, and St. Faustina's Tomb. We will celebrate Mass here, and then drive back to Krakow for a free afternoon at your leisure. Dinner and overnight in Krakow.
Day11
Day 11, Saturday - October 24 - Return Home
After an early breakfast and heartfelt farewells, transfer to the Krakow airport for return flights home.


The benefit of buying airfare with 206 Tours?
Your transfers are always secured, even if your flights are delayed - round trip transfers to/from the hotel and airport are included no matter what!
If you purchase your airline ticket on your own, you have to pay in full at the time of booking, and most of the time it is non-refundable. If you book with 206 Tours, full payment is due 60 days prior.
In the very rare event that a tour is cancelled, you would get all your money back, which would most likely not be the case if you purchased it directly from the airline.
Your flight arrangement will be followed up on and reconfirmed by 206 Tours.
206 Tours can arrange for you to travel before the tour, make a stop-over, or stay later!
Book your trip now
$400 Deposit is due at the time of Registration
Options & Upgrades
*All pricing is per person
Single Supplement / Private Room $583.00 (USD)
Business Class Trans-Atlantic (One-Way) $1,750.00 (USD)
Business Class Trans-Atlantic (Round-Trip) $3,500.00 (USD)
Would like to stop over in Europe?
Let us know at time of registration, we can adjust your airline reservation pending availability to add a pre or post stay of your choosing. Simply Contact 206 Tours: 800-206-TOUR (8687) or sales@206tours.com
Options and upgrades
*All pricing is per person
Single Supplement / Private Room $583.00 (USD)
Business Class Trans-Atlantic Upgrade (One-Way) $1,750.00 (USD)
Business Class Trans-Atlantic Upgrade (Round-Trip) $3,500.00 (USD)
Earn a Free Trip
For groups of 20 or more, you may choose your own departure and earn FREE trips.
contact us
Would you like to arrive
earlier or stay later?
Let us know at time of registration, we will reschedule your airline reservations pending availability at no additional fee (these options will be available to you when you register online). Let us know if you need assistance with pre or post stay at hotel. Simply Contact 206 Tours: 800-206-TOUR (8687) or sales@206tours.com
Contact Us
Any questions? Contact Us: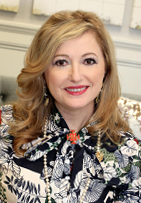 Milanka

LC*HS, President & Founder

1-800-206-Tour (8687)