Fr. Donald Calloway, MIC - Client Letters
Testimonials, Pilgrimage Experiences, What our clients say about 206 Tours

From: Joe and Patty Janiak
Sent: Friday, March 29, 2019
To: 206 Tours
Subject: Pilgrimage to Ireland with Fr. Donald Calloway, MIC
Hi 206 Tours,

My husband and I had a wonderful pilgrimage with Father Donald Calloway. I can't say enough good about it! The tour guide, Patrick and Shamus, the bus driver were excellent! The people and the food were the best! We hope to go on another pilgrimage with your tour company in the future.
From: Fr. Donald Calloway, MIC
Sent: Friday, September 14, 2018
To: 206 Tours
Hello, everyone!

My name is Fr. Donald Calloway, MIC, and I am a priest with the Marian Fathers of the Immaculate Conception. I currently live in Steubenville, Ohio, and serve as the Vicar Provincial and Vocation Director for my religious community.
You probably found this website because you are thinking and praying about going on a Catholic pilgrimage. That's wonderful! You've come to the right place! I love pilgrimages, and want to tell you about 206 Tours and the many pilgrimages that I lead every year.
As you know, a pilgrimage is a very special and unique journey. It's a time of prayer that helps a person draw closer to heaven, especially by visiting holy sites associated with Jesus, Mary, and the saints. Whether you are praying about going on pilgrimage to the Holy Land, Poland, Fatima, Lourdes, Guadalupe, Rome, or another holy site, a pilgrimage is meant to help you experience a deeper conversion and assure you of God's merciful love. In a General Audience in 2011, Pope Benedict XVI spoke of the essence of why we go on pilgrimage. He said: "Pilgrimage is an expression of religious devotion that is nourished by prayer." Trust me, once you go on pilgrimage, your life - especially your prayer life - will never be the same!
For many years now, I have been leading pilgrimages to various holy sites around the world. The pilgrimage agency that I work with is 206 Tours. Founded in 1985, 206 Tours is the best Catholic pilgrimage agency available. Hey, you know you are doing something right when respectable people like Scott Hahn and Jim Caviezel use your company to go on pilgrimage!
There are many reasons why I so highly recommend 206 Tours. For starters, they are extremely Catholic. Each pilgrimage is a truly prayerful journey, filled with devotions, daily Mass, and holy experiences. The guides on each pilgrimage are very knowledgeable, the itineraries are exceptional and comprehensive, the hotels are wonderful and centrally located, and every detail of your pilgrimage is well planned out and executed. From airplane flights to bus rides and meals, 206 Tours goes above and beyond to make your pilgrimage one of the best experiences of your life. My own mother only goes on pilgrimage with 206 Tours!
Click on the link and take a look at all the wonderful pilgrimages I lead with 206 Tours. Come by yourself, with your spouse, or as a family. Together we will journey toward heaven and experience the joy of conversion!
From: Phil
Sent: Wednesday, September 12, 2018
To: 206 Tours
Subject: Poland with Father Donald Calloway
Thank you 206 Tours. In short, my wife and I had a wonderful experience. It was a blessed event. The itinerary was surely crowded with many activities but that allowed us to see the many extraordinary sites in Poland. We thought the accommodations were very nice, especially in Krakow being so close to the the extraordinary old town main square. Fr. Calloway and Fr. Dante were top notch, as were Olga (professional, knowledgeable, friendly) and our driver, Jack. (We didn't have to interact with Bart, the guide for the red bus often, but when we did he was extremely helpful too). In short, just a top notch pilgrimage and we could not have designed a tour which encompassed so many beautiful and meaningful shrines, churches and other venues.
From: Michele B
Sent: Monday, September 10, 2018
To: 206 Tours
Subject: Pilgrimage to Poland with Fr Donald Calloway
The pilgrimage was spectacular!!! From the hotels to the food to the destinations. Good job. My favorite day was the day in Czechoslovakia visiting the queen of Poland and the dinner that night was off the charts. Thank you for a memorable pilgrimage.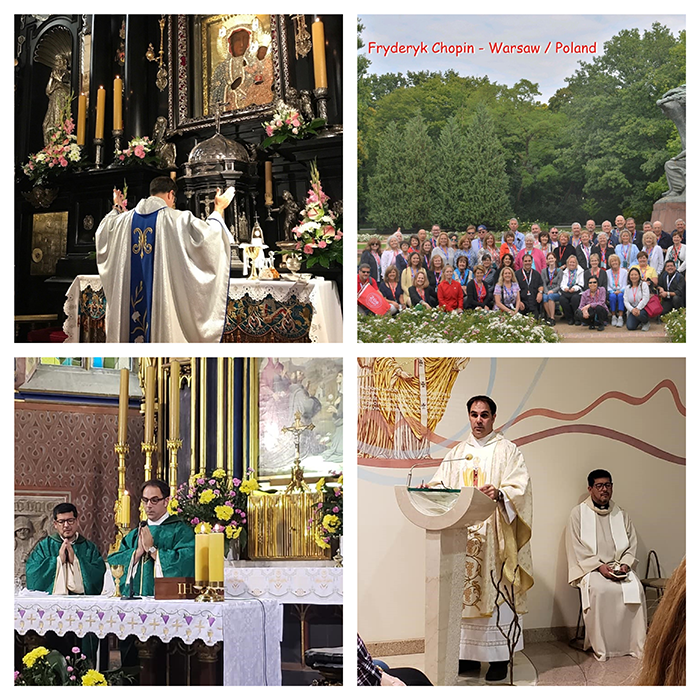 From: Mary Joanne Clifton-Wirth
Sent: Friday, September 7, 2018
To: Milanka Lachman
Subject: Dziekuje! Vilnius and Poland with Fr. Donald Calloway
Dear Milanka,

The pilgrimage was wonderful. Our tour guide Rasa Aleksaite was incredibly informative, enthusiastic, kind and funny! She is a beautiful lady and a walking encyclopedia on all things Lietuva!
I agree with dear LaChita Calloway, Poland is a jewel and if I spoke Polish I wouldn't mind living there. The devotion to our Holy Catholic Church by the Poles was amazing! If only the whole world was like Poland.
Again, 206 Tours exceeded our expectations. I am so happy to know you Milanka, you are a blessing in my life and the life of many many people I'm sure!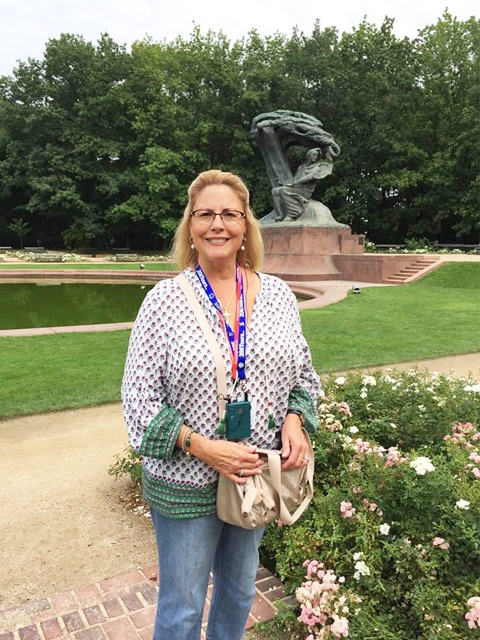 From: Lindsay Brennan
Sent: Monday, June 25, 2018
To: Jenny Klaum
Subject: Pilgrimage to France with Fr. Calloway
Hi there!

The pilgrimage the Great Shrines of France was really incredible! The tour guide, Javier Valdivieso, was one of the best I have encountered - combining great charisma, humor, genuine care for the pilgrims, Catholic devotion, and excellent organizational skills in an exceptional way. Give him a raise! :D The group was wonderful and very devout, and as always Fr. Calloway enhanced the trip with thoughtful reflections, time getting to know the pilgrims, and even daily contests to win his books!
Thanks for taking such good care of us on our tour!!!!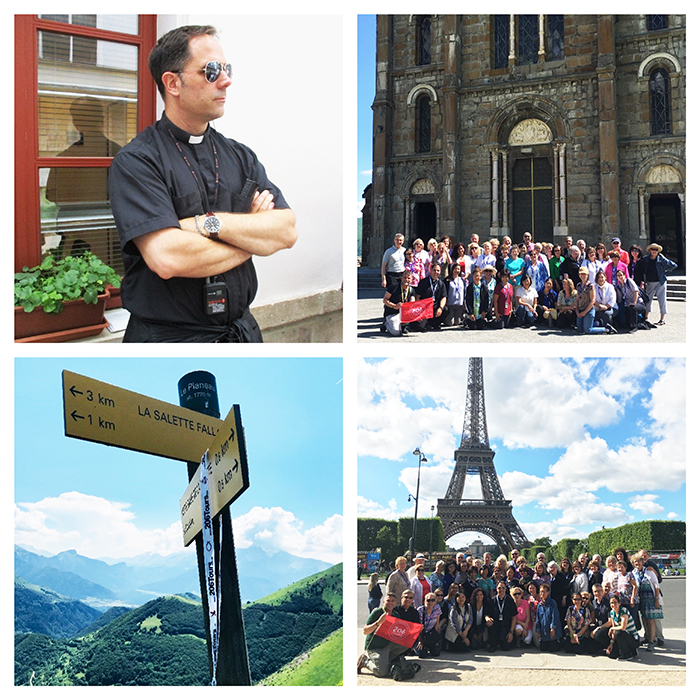 From: Christopher S
Sent: Tuesday, April 24, 2018
To: 206 Tours
Subject: Pilgrimage Guadalupe & Mexico City
I am VERY happy & supportive of 206 Tours.
The Mexican-Calloway tour was REMARKABLE! Just sublime! My experience in Mexico & at Guadalupe this past week were nothing-less than another incredible blessing & encounter with Our Lady in my life. I enjoyed EVERY MOMENT on the pilgrimage: the eclectic ORNATE churches were breathtaking; rich in art & statuary of all things: Saints-galore! I took 1,200 photos! I only wish I could have spoken better to communicate effectively. I am SO glad I went!
I truly loved all the locations; the hotel was well selected; SAFE, cleanly & comfortable; the food was particularly appealing; the bus, bus-routes & destinations were accommodating with no road issues (no bus wifi or chargers, but there WAS an on-deck commode); everyone got along & was friendly; no fuss/no-problems & a capable group. Guide Roberto was professional & did his best; well-versed & you know that he cares. Francesca was a beacon of grace & hospitality. It was another trip in 206 Tours-style! About 1/3 of the pilgrims were repeat customers & I publicly mentioned their decision & selection of 206 was money well-spent!
From: Jocelyn
Sent: Tuesday, April 24, 2018
To: 206 Tours
Subject: Thank you
Dear 206 Tours,

What an amazing tour with Father Donald Calloway, his parents, and fellow pilgrims. I have never been to Mexico City but it was truly inspiring. Thank you for making it possible by your amazing company and all it does to make travelers happy. Thank you also for the fruit basket. What an amazing surprise. I told his mom, Mrs. Calloway, that I definitely plan to go to Rome and Malta with them next year. The Mexico City trip will be the third one with your company that my cousin Adella and I have taken. She is also interested in going with me next year to Rome and Malta. She's already started putting away money for the 2020 Oberammergau Passion Play. We both want to go there as well. Special thanks to our tour guide, Roberto, who was so kind and helpful. He really went out of his way to make sure to leave it taken care of. Also to our amazing driver Ricardo, who was always helping us get off the bus safely and getting to and from where we need it to be. Roberto always had a nice smile and was very respectful.
Again thank you for being an amazing tour company. We will definitely let others know about it.
From: Fr. Donald Calloway, MIC
Sent: Friday, July 21, 2017
To: 206 Tours
Subject: Pilgrimage to Holy Land with Fr. Donald Calloway
206 Tours is the best Catholic pilgrimage agency available! I have been on dozens of pilgrimages and each journey with 206 Tours greatly blesses my life and the lives of the pilgrims on the trip. The hotels are excellent, the guides are top notch and very knowledgable, and the staff at 206 Tours takes care of absolutely everything. Even my Mom goes on pilgrimage with no one else but 206 Tours! If you are praying about going on a pilgrimage, look no further and sign up with this incredible Catholic pilgrimage agency!
From: Robert A. M
Sent: Thursday, June 22, 2017
To: 206 Tours
Subject: Pilgrimage to Fatima & Poland with Fr. Donald Calloway: June 2017
Our experience with 206 Tours was awesome, and I definitely would look forward to doing it again. Danny and I love Fr. Calloway, and I would think of no other way than doing a pilgrimage with him. Daily mass each day at a magnificent site of pilgrimage made my day.
When we went on class trips, our instructor said things will always go wrong, rain, etc. We were not able to get into all of the churches because of Corpus Christi processions outdoors, but 206 tours more than made up for it by improvising, looking for the best options, providing lunches when none were scheduled.
As Father Calloway said, we will become pilgrim "junkies". We love you guys. Thanks for all.
From: C Thompson
Sent: June 21, 2017
To: Bika Stevic
Subject: Fatima & Poland with Fr. Donald Calloway: June 2017
Dear Bika and Amanda,

Our pilgrimage with Father Don Calloway to Fatima and Poland was a true blessing! We were able to cultivate friendships from past pilgrimages and make new "like-minded" friendships. Our guides, Olga and Javier G, were excellent. It greatly enhanced the pilgrimage to not only have guides that were able to explain the beautiful sites but also share their faith with us. Our spiritual director was amazing - Father Don Calloway was such an inspiration and breath of fresh air. Every aspect of our pilgrimage exceeded our hopes and expectations. Thank you so much, 206 Tours, for helping so many of us enrich our faith in an atmosphere of hospitality, love and friendship. With our most sincere thanks and warmest wishes for an abundance of grace and blessings to be sent your way.
From: Cynthia Martinez
Sent: June 21, 2017
To: Chris Wright
Subject: Pilgrimage to Portugal and Poland with Fr. Donald Calloway
Hi Chris,

This is Cynthia and Oscar Fonseca writing you after our pilgrimage to Fatima and Poland. Well it sure wasn't the same without you once we reached Poland. You are an awesome person and employee of 206 Tours. They are very fortunate to have you and we were very blessed and fortunate to have met you also. Both Oscar and i feel that you were an angel sent by God to assist us and your mother should feel very proud to have you as her son. You went above and beyond the call to help us out always!! And for this we are most grateful. Your attitude was always superb!! You are kind, understanding, and very positive in particular, in moments of adversity. We wish you continued success at 206 Tours and if you ever need a recommendation from your client we would be happy to reply. May you continue to enjoy success in all of your endeavors. God bless you and your family especially your beautiful son!!!!
From: Alicia Bustillo-Lavisky
Sent: Tuesday, June 20, 2017
To: 206 Tours
Subject: Testimonial | Pilgrimage to Fatima & Poland with Fr. Donald Calloway
I am so grateful to have joined this pilgrimage! Accommodations were wonderful, tour escorts Javier at Fatima and Olga in Poland were so knowledgeable and very nice. The spiritual journey was truly what I expected from a Pilgrimage. I loved all the places we visited. Fr Calloway was a terrific Spiritual Director for the Pilgrimage. He was always accommodating. Thank you Bika and God bless you!
From: Marie Lewandowski
Sent: Friday, March 31, 2017
To: Amanda Fortunato
Subject: Pilgrimage to The Holy Land with Fr. Donald Calloway | March 2017
Amanda,

Good Afternoon. I have been resisting getting back to reality, mentally I am still in Israel! This was my second pilgrimage with 206 Tours and it was well worth it, I enjoyed everything about it, in the words of Father Don I am now a pilgrim junkie! I think 206 runs the best pilgrimages/tours, there is nothing I want or need on the trip. I especially enjoyed the three meals a day although I do feel I ate too much! Last year when I went to Poland we received breakfast and dinner so this was a nice perk getting lunch. Our hotels were stellar, bus was clean, and Nazeel and Jack were the best! Actually I almost feel like I had an overload of information which is good. Yesterday I went out to the book store and purchased a book on the history of Jerusalem and a history of Christianity. This is my best part of my trips is when I come home and feel like a sponge on anything and everything that I saw and learned on my trip, and want to continue to absorb more! Maybe the best part of all was the intimacy of the pilgrimage. Last year went I took the Divine Mercy pilgrimage to Poland we had two bus loads of pilgrims and it was hard to friend each and every pilgrim although I absolutely loved that trip too I think partly because I am Polish and am a St. John Paul and St. Faustina Kowalska cheerleader.! But this pilgrimage was really really special. Having one bus full of pilgrims was easier to get to know almost each one individually. They are all so special and dear to me, of course you have your favorites and that is common anywhere. Some pilgrims I feel like I have known my whole life!!! I really didn't take any pictures to share and I have a crazy reason for that. Three years ago my mom passed away and now I have all of her life's pictures and I also have mine. So that being said I am trying to cut back on the picture taking, but everything is in my memory! Ok so thank you for checking in with us and I hope you have a wonderful year ahead.
From: LaChita Calloway
Sent: March 27, 2017
To: Milanka Lachman
Subject: Holy Land
Amen Milanka!

Your the best! & all our family of pilgrims were soo very wonderful to journey & share with thruout an amazing & breathtaking Holy Land Pilgrimage. What an exceptional walk back in time & in the history of the diverse & various regions we all explored together. Truly a well suited itenary for a pilgrim soul! Thank You!, & all your very gracious, helpful, & knowledgeable staff, Jack our guide, & bus driver Nazeen. Fr. Don & I & all 38 + just experienced a top notch & unforgettable one of a kind Holy Land Journey as Forever Pilgrim Souls. Thank you Fr. Don for your spiritual direction, Holy Masses with homilies straight from the heart Much Love & Our Best Regards!!! Saluté to 206 Tours Pilgrims & Pilgrimages !!!
From: Lyn Giacomuzzi
Sent: Wednesday, January 04, 2017
To: Bika Stevic
Subject: Pilgrimage to Mexico with Fr. Calloway: December 27 - January 1, 2017
Hello, Bika!

Happy New Year to you. Our Pilgrimage experience with 206 Tours was outstanding! Already, we can't wait until our next tour. We enjoyed our stay at the hotel, it was clean and comfortable, service was always great and meals were good along with a very nice serving staff! Our tour guide Roberto was so kind, knowledgeable, informative and caring. Loved him! We found our buses to be very comfortable and clean, Fransisco was a great driver and through Roberto, shared his testimony. Very touching. And of course, our Pilgrimage wouldn't have been the same without Fr. Calloway. He made us feel like we were friends from the very start and we felt so comfortable with him. Having daily Mass with him was very special, and his homilies will be in my heart forever. His passion for his vocation touches and inspires all those he comes in contact with. I like how he explained indulgences, the scapular, The Rosary on the bus when he had time. Being able to be in Mexico City with Fr. C at that time of year was a privilege to end 2016 and start 2017. On that note, the New Year's dinner in the other restaurant was very well put together, it was a wonderful meal with wine and champagne and again, the staff knocked themselves out to accommodate us. I hope they are told what a great job they did, we tried to let them know as best we could and mentioned to Roberto the next day how nice the evening was. Thanks to 206 for everything and for getting in as many churches as they could fit in during the days, and for providing enough shopping time on the last day. We will spread the word to friends how classy this tour company is. The transfers to and from the airport worked out well, also, and were easy. 206 Tours is the best!!
From: Carolina Johnson
Sent: Wednesday, January 04, 2017
To: Bika Stevic
Subject: Pilgrimage to Mexico with Fr. Calloway: December 27 - January 1, 2017
Hi Bika & 206 Tours,

My pilgrimage to Mexico was authentic and real. I was told not to go, but felt confident enough with 206 to know that I would be safe in Mexico. Indeed, I was very safe and secure. The tours within Mexico were so touching, particularly Our Mother of Guadalupe. Fr. Calloway is most awesome with his services as well as serving our spiritual needs. The shrines and historical visits in Mexico were very interesting and authentic. I felt blessed to be in Mexico. I particularly enjoyed Padre Pro visit as well as viewing and learning about the incorruptible Saint and relics. My hotel room was particularly spacious, clean and the staff was very gracious. All staff, including hotel staff for New Year was excellent to us. My best recommendation is for Roberto, our tour guide, who went over and beyond making certain all of our needs were met. I appreciate all of his care and information provided to us. Happy New Year, 206 Tours and thank you for insuring we all had an authentic experience in Mexico.