El Camino Pilgrimage to Spain
A WALKING PILGRIMAGE
Spiritual Leader: Fr. Gregory Plow
| Date | Duration | Destination |
| --- | --- | --- |
| May 13 - 23, 2019 | 11 Days | Spain |
TOUR DETAILS or BOOK NOW
El Camino Pilgrimage
The El Camino de Santiago or the Way of St. James is the most famous, and sacred, pilgrimage walk in the world! Millions of people walked these ancient paths for over 1000 years, and many more dream about it! 206 Tours makes it possible for anyone who wishes to experience this incredible journey knowing that accommodations, all meals, luggage handling, transfers, guiding is taken care of! With every step you take, and every town you pace through, you are drawn closer to St. James. Those moments of quiet, and the moments of interactions with someone new, draws you closer to Him. Relax knowing the person you are, and the questions you have now, will be completely different by the time you arrive in Santiago and perhaps, that was the answer you were looking for.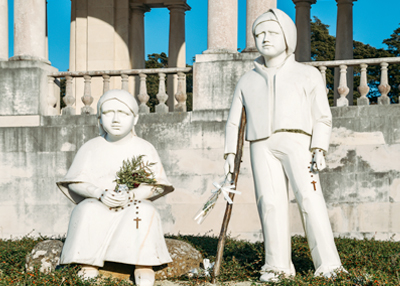 Pilgrimage & Retreat to Fatima
Spiritual Leader: Fr. Dave Pivonka, T.O.R.
| Date | Duration | Destination |
| --- | --- | --- |
| August 11 - 18, 2019 | 8 Days | Portugal |
TOUR DETAILS or BOOK NOW
Pilgrimage - Retreat in Fatima
A pilgrimage presents the opportunity for us to encounter God in ways that can forever change our lives. I invite you to join me on a retreat/pilgrimage to Fatima, one of the most significant Catholic pilgrimage sites of the last one hundred years. The crowds of the 100th anniversary have diminished and now is a wonderful time to experience the grace available to those who go on pilgrimage to this most special shrine. Pope Francis stated of the grace of praying in Fatima, "Each time we recite the rosary, in this holy place (Fatima) the Gospel enters anew into the life of individuals, families, peoples, and the entire world." We have created a schedule that allows for two days of retreat in the middle of our pilgrimage, which I will be directing. This guarantees that each of us will have the opportunity for prayer and reflection that will aid in our encounter with Jesus and Our Lady. Our retreat will conclude on the Feast of our Lady's Assumption, which will surely be a special event in Fatima. I believe there is a special grace present in Fatima and if pilgrims are able to take the time to be still, to be quiet, they are able to experience this grace. Fatima holds a place of prominence for me due to my encounter with our Lady on my first visit. I remember praying in front of the image of Our Lady and experienced her closeness and maternal care in a way that changed our relationship. It was an experience I have never had before or since. Such is the grace of Fatima. Our time in Fatima will provide us the opportunity to visit all the significant places important to the story of Fatima. We will also spend an afternoon in the small village of Santarem, the sight of an inspiring Eucharistic miracle that took place in the 13th century. Please consider joining me on this wonderful pilgrimage. Space is limited, so don't delay. God bless you, and know of my thoughts and prayers for you,
Fr. Dave Pivonka, TOR


Oberammergau Passion Play
Spiritual Leader: Fr. Dave Pivonka, T.O.R.
| Date | Duration | Destinations |
| --- | --- | --- |
| September 15 - 24, 2020 | 10 Days | Hungary, Slovakia, Czech Republic & Germany |
TOUR DETAILS or BOOK NOW
Pilgrimage - Oberammergau 2020
I am so excited to invite you to join me to what is sure to be one of the singularly powerful experiences of your life; A pilgrimage to the Passion Play of Oberammergau. In 1634 the villagers of Oberammergau first performed the passion play in fulfillment of their promise to God for saving them for the Black Plague. In profound gratitude to the Lord the Passion Play has been presented every 10 years since. In 2010, I was blessed to be able to attend the play and I can't wait to experience this once again. Our pilgrimage will begin in Budapest the beautiful capital of Hungary which sits on the lovely Danube. We will be in Budapest the same time the International Eucharistic Congress a gathering the Holy Father has called for. At the moment we don't have specific details about the event but may be able to participate in an event with the Holy Father. While in Budapest we take an evening cruise on the Danube which allows for a wonderful view of Budapest. From here we will follow the beautiful Danube to Bratislava, the charming capital of Slovakia. We will spend an afternoon and night in Bratislava enjoying the cultural and religious beauty of this small European capital. Our next stop will take us through the beautiful Eastern European country side to the magnificent city of Prague one of the most striking cities in all of Europe. We will spend two wonderful days in Prague taking in the beauty that has captivated visitors for centuries. We will then experience the Passion Play of Oberammergau with fellow pilgrims from around the world. There really is no other experience like this in the world and no doubt we will be drawn deeper into the Lord's love for us having experienced the Play. We will conclude our pilgrimage in the historical city of Munich before we return home after having a very blessed Pilgrimage. Spaces for this pilgrimage will be very limited and I am confident that the pilgrimage will fill up quickly. God bless and know of my prayers,
Fr. Dave Pivonka, TOR
About Your FLIGHTS - The benefit of traveling with 206 Tours
206 Tours will book your airline ticket from your closest airport to your final destination
You can check your luggage all the way through without having to recheck
Your transfers are always secured. Even if your flights are delayed
You do not have to pay for airfare at time of booking, but with your final payment.
In the very rare event that a tour is cancelled (by 206 Tours), you will always get all your money back from 206 Tours. This is not the case with other operators, especially if you purchased an airplane ticket directly from the airline.
206 Tours offers you flexibility - if you would like to travel before the tour, make a stop-over on the way, or stay later, we will arrange that for you!