yaritza@206tours.com
800-206-TOUR (8687)

mon - fri
9am - 5pm EST

Dr. Scott Hahn Ph.D. is a Theologian, Author, Professor and Catholic apologist. His works include Rome Sweet Home and The Lamb's Supper: The Mass as Heaven on Earth. His lectures have been featured in multiple audio distributions through Lighthouse Catholic Media. He currently teaches at the Franciscan University of Steubenville, a Catholic university in the United States.


Kimberly Hahn, is the wife of Dr. Scott Hahn, the mother of six children, is a well-known Catholic apologist, and author of five books. She gives talks about Catholicism, feminism, and contraception, both nationally and internationally.

Are you yearning to strengthen your faith?
Do you want to get drawn closer to the Lord and our Blessed Mother through the blessings and graces of the pilgrimage? If the mundane everyday life feels spiritually empty, then fervently seek to receive the divine guidance in joining one of our incredible pilgrimages. Experience prayers and reflections at very spots where Our Lady appeared. Our incredible priests will celebrate Mass in some of the most important shrines and churches in the world! You will be inspired by the natural beauty of the landscape, in addition to rich history. Pilgrims have been traveling to these Holy Sites for hundreds of years, and as part of your pilgrimage, we include many of the rich traditions that have evolved over time. Pilgrimage is an encounter that has changed the lives of many, and an act of faith and prayer. If you desire to draw closer to Jesus, Mary and all the Saints which have been mentioned in these itineraries – join us to follow in Their footsteps. Escape every day, busy lives and dedicate time for spiritual renewal. Invite a family member or a friend who needs spiritual growth or healing. Come, embark on a spiritual journey of a lifetime with Scott and Kimberly Hahn!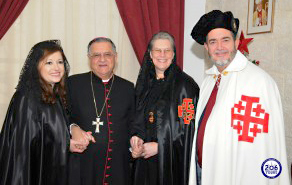 Milanka Lachman, His Beatitude Fouad Twal,
Kimberly Hahn & Dr. Scott Hahn