Fr. Steve Pietrowski Pilgrimage
Bruges, Banneux, Rotterdam, Amsterdam & Rhine River Cruise
SP041918
slider
Bruges · Banneux · Rotterdam · Amsterdam · Cologne · Koblenz · Rudesheim · Mannheim · Strasbourg · Breisach · Basel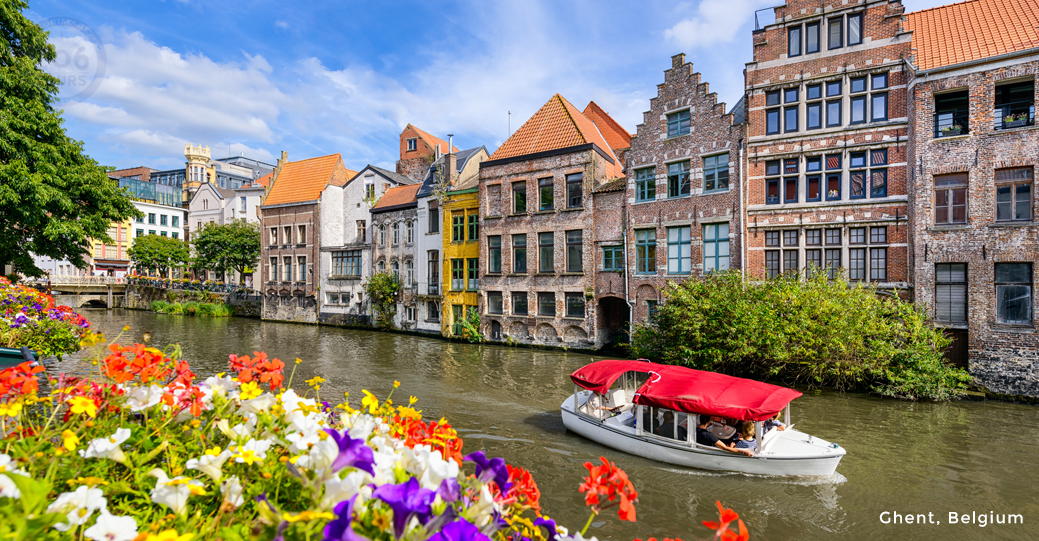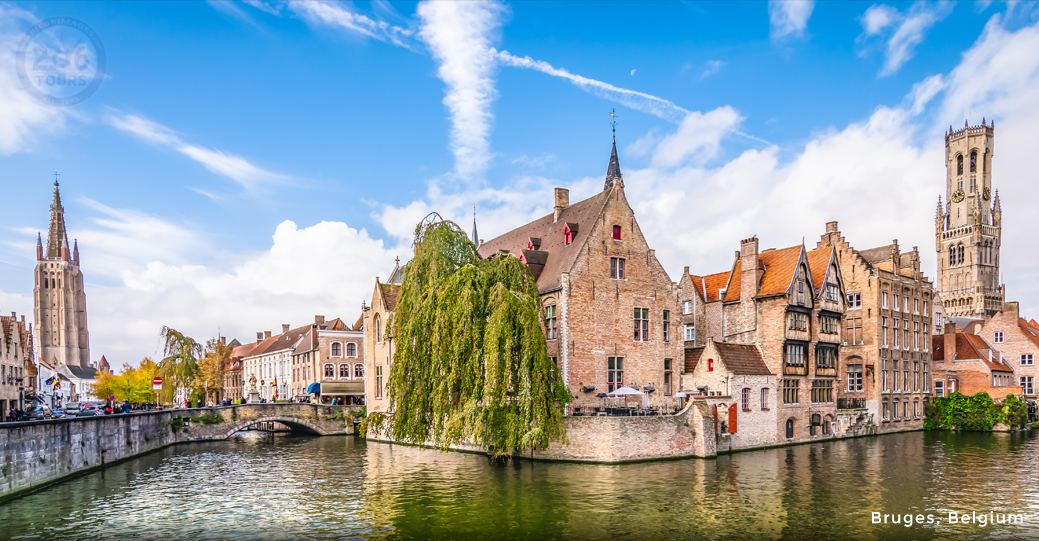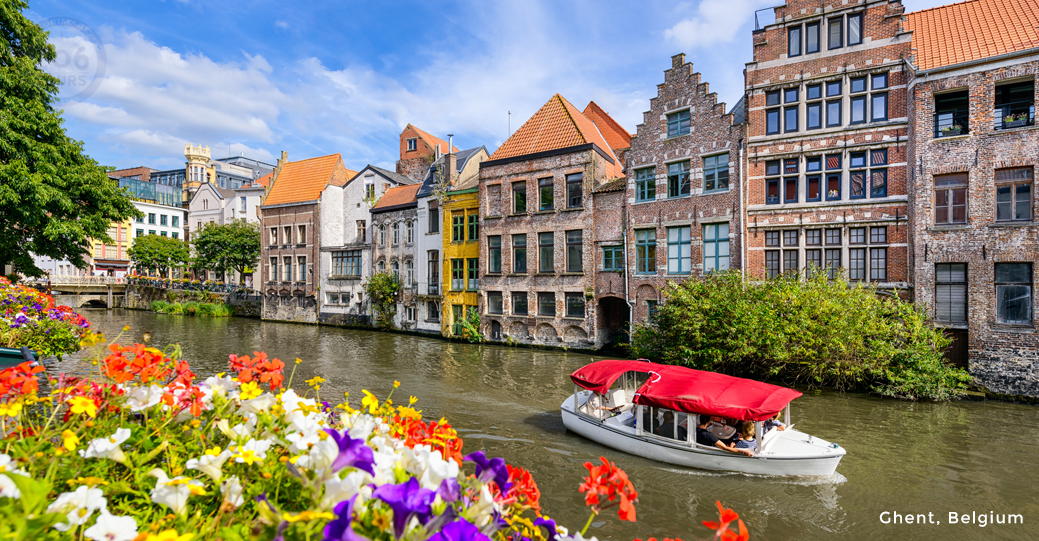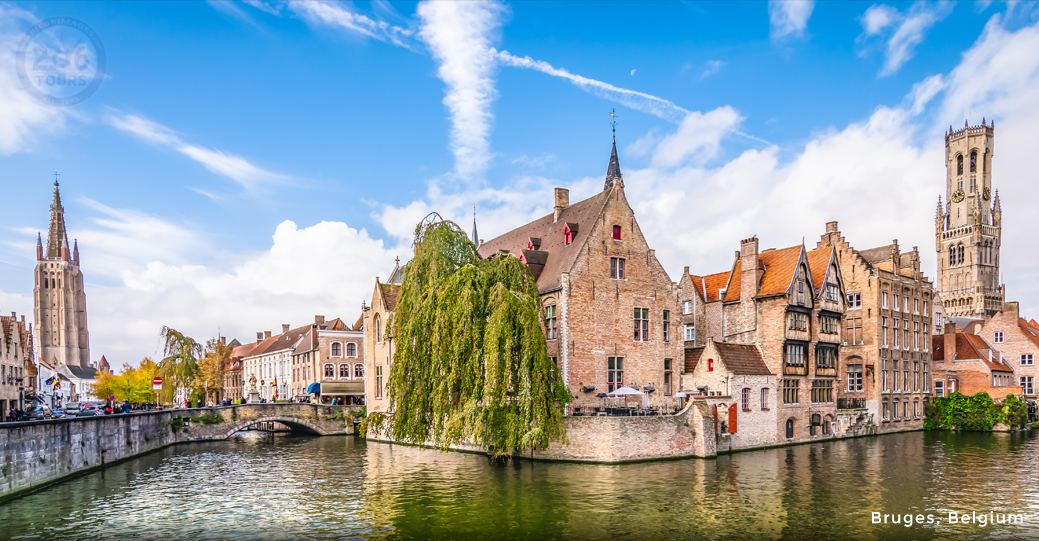 DATES & PRICES
Any Questions? Contact: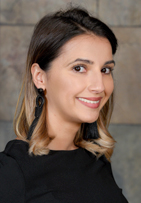 Bika

Account Manager

1(800)-206-8687)
Your trip includes
Round-trip airfare

*

All airport taxes & fuel surcharges
Accommodations at 4* Hotels or similar & River Cruise on AMA Waterways (or similar)

~ 2 ni April 20-22: NH Brugge, Brugge

~ 1 ni April 22-23: Inntel, Rotterdam Center

~ 7 ni April 23-30: AMA Waterways River Cruise

Tour Escort & Assistance (Day 2, 3, 4 & 12)
Land Portion: Breakfast & Dinner daily, Wine with dinners
Transportation by modern motor coach
Sightseeing, admission fees per itinerary/Headsets
Mass daily & Spiritual activities
Luggage handling (1 piece per person)
Centrally located hotels or similar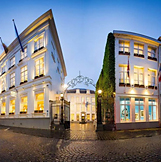 NH Brugge
Bruges, Belgium
2 Nights
Inntel
Rotterdam Center
1 Night
River Cruise
AMA Waterways
7 Nights
Cruise inclusions:
Accommodation during the cruise and all Port Charges
All gourmet meals onboard (Early Riser Coffee and Croissants, a Rich Buffet Breakfast, a Festive Lunch Buffet, Afternoon Tea & Coffee with Cake, Cookies & Sandwiches and a Multi-Course Dinner;
Free Flowing Red and White Wine from the local regions, Beer or Soft Drinks for lunch and dinner
Complimentary Happy Hour each night before dinner
Choice of dining options at no additional cost including the main dining salon and an intimate Chef's Table Restaurant where the Chef prepares the meal in person
Free Coffee, Tea, Ice-Water and Ice-Tea are included all day. Cappuccino, Latte and Espresso can be requested free of charge during all meals! Complimentary coffee & tea station available 24 hours.
Captain's Welcome Champagne Reception and Gala Dinner and Captains Farewell Champagne Reception and Gala Dinner plus several Theme Dinners
Bottled water, fluffy bathrobes and slippers are provided free of charge in each cabin
Use of the Heated Swimming Pool (as equipped) on the Sun Deck and the Wellness Center inside including Fitness equipment (free of charge)
Use of the Bicycles and helmets onboard free of charge
Complimentary use of the internet onboard (via flat-screen TV & keyboard in each stateroom and wireless in our two lounges)
Complimentary In Cabin Movies
Elevator on board operating between 4 different levels: Restaurant (Level 1), Staterooms (Level 2), Lobby and Panorama Lounge (Level 3) and Staterooms (Level 4); (elevator does not go to the lowest deck or Sun deck)
Nightly Piano Music and also during tea and coffee
Our daily shore excursion program during the cruise with English speaking guides. Use of our Quiet vox headsets is also included at no additional cost.
Services of our professional English Speaking Cruise Director
Not included
Lunches and Beverages unless mentioned. Tips to your guide and driver, individual transfers.
On cruise: Gratuities. Telephone in cabin, Optional shore excursions that may be offered in addition to those offered daily
Providing you coverage, both Pre-Existing Conditions and throughout your trip. From Medical and Dental Emergencies, Loss of Luggage, Trip Delay, and so much more.
A Cancellation Waiver - allowing you to cancel your trip and receive a refund anytime - up until 24 hours prior to departure. The "Waiver" expires once you are within 24 hours of departure.
Itinerary
Day1
Thursday, April 19, 2018 | Departure
Depart for your overnight flights to Belgium.
Day2
Friday, April 20, 2018 | Arrive Brussels - Transfer to Bruges
Arrive at Brussels Airport and collect your luggage. Exit the airport with your tour escort and driver who will transfer you to Bruges for overnight. On your way, enjoy a panoramic view of Belgium. Time permitting, celebrate Mass at a local church. Dinner and overnight at your hotel in Bruges.
Day3
Saturday, April 21, 2018 | Bruges - Banneux - Bruges
After breakfast at your hotel, depart for Banneux where we visit Notre Dame, also known as, the Belgian Lourdes. Upon arrival, you will visit the Shrine of Our Lady of Banneux. In 1933, the Blessed Mother appeared to twelve-year-old Mariette Boco as the "Virgin of the Poor." Our Lady appeared to little Mariette a few times and informed her that she (Our Lady) has come to relieve the suffering of the ill and the conflicts of all nations. Celebrate Mass at the Shrine (subject to confirmation). Lunch on your own. Return to Bruges. Dinner and overnight at your hotel in Bruges.
Day4
Sunday, April 22, 2018 | Bruges - Rotterdam
Breakfast at your hotel. Start a day with a visit of Bruges, the canal city. The Zeebrugge port of Bruges is an important center for European trade. As you approach the Church of Our Lady for Mass (subject to confirmation), you will inevitably notice the preserved culture of the Middle Ages that is still present. While you visit the Church of Our Lady (entrance fee included), you will have the opportunity to view the magnificent marble statue, Madonna and her Child sculpted by Michelangelo. Later, you will visit the Basilica of the Holy Blood. Most interestingly, this Basilica also holds a venerated relic of Jesus Christ that was collected by Joseph of Arimathea. Note: The church of Our Lady will be undergoing restoration works which will mean that some areas may not always be accessible. Lunch on your own. Depart for Rotterdam. Check into hotel and rest of the day at leisure. Dinner and overnight at the hotel.
Day5
Monday, April 23, 2018 | Rotterdam - Amsterdam - embarkation on River Cruise
After breakfast at your hotel , depart for Amsterdam. Have a short visit of Amsterdam before you start a cruise, where you will experi- ence its seventeenth century historical and picturesque atmosphere amidst its canals and squares. While walking tour we will see Royal Palace, National Monument, Flower Market, Opera House, City Hall, Amstel River, Begijnenhof and Skinny Bridge (exterior views). In Amsterdam an Eucharistic Miracle took place. In 1345, as a result of a man's illness, a Sacred Host was found preserved in his house after it was moved numerous times and after having experienced a fire that left the city in ruins. Your tour will culminate as you visit one of the Virgin Mary's apparition sites, the Chapel of Our Lady of All Nations. In 1945 until 1959, Our Lady appeared to Ida Peerde- man with the continuous message of love and repentance and, the prayer for Nations. Lunch on your own. After lunch we board a luxurious river cruise ship to commence our river cruise. Dinner and overnight on your river cruise ship.
Day6
Tuesday, April 24, 2018 | Amsterdam
Get acquainted with Amsterdam on a scenic canal cruise, where you will see the beautiful wooden Skinny Bridge and Anne Frank's House. Continue on with a walk to the Begijnhof and be charmed by its Mid- dle Age buildings followed by a city tour that includes the Royal Pal- ace and Westerkerk. Later in the day, enjoy scenic cruising. (B,L,D)
Day7
Wednesday, April 25, 2018 | Cologne, Germany - Koblenz
Enjoy cruising to Cologne, home to one of Germany's most revered Gothic masterpieces, the Cologne Cathedral. Join a guided tour through the enchanting Old Town and explore the UNESCO- designated cathedral, where the remains of the fabled Three Kings—the Magi—are believed to rest. Continue on and discover the Cologne Rathaus, Germany's oldest town hall, the Overstolzenhaus and the Festival Hall. Alternatively, ride a bike along the Rhine and through the historic Stadtgarten. Or visit a local tavern to taste Cologne's traditional Kölsch beer and Reibekuchen - potato pancakes served with apple sauce. (B,L,D)
Day8
Thursday, April 26, 2018 | Rhine Gorge - Rudesheim
Cruise through the captivating UNESCO-designated Rhine Gorge, the most stunningly beautiful stretch of the river before reaching the winemaking town of Rüdesheim. Wine connoisseurs will want to go on a walking tour through the vineyards where you'll stop to sample wines at three different tasting stations. Or choose to drink up the stunning views by soaring high above the vineyards with a gondola ride to the Niederwalddenkmal Statue. For a more active adventure, join a guided bike tour along the scenic Rhine River. Later in the day, let Siegfried's Mechanical Music Museum charm you with its remarkable collection of self-playing musical instruments; or taste one of the town's special delights, Rüdesheimer Coffee, ceremoni- ously made with brandy, coffee and whipped cream.
Day9
Friday, April 27, 2018 | Mannheim
You'll have a choice of three excursions. Visit Heidelberg, the perfectly preserved medieval city nestled in the Neckar River Valley along Germany's Castle Road. Discover the iconic red sandstone Heidelberg Castle and Great Vat, an 18th-century 49,000-gallon wine cask. For a more active adventure while in Heidelberg, join a guided hike up the Philosopher's Path, aptly named during the Romantic Period, and be rewarded with panoramic views of the city. Alternatively, you can visit one of Germany's oldest cities, Speyer, known for the largest Romanesque cathedral in Europe—a UNESCO World Heritage Site—and the medieval Altpörtel, Old Gate. (B,L,D)
Day10
Saturday, April 28, 2018 | Strasbourg, France
Strasbourg, the capital city of Alsace, has flavors of both France and Germany because of its borderline location, which you'll get to discover. Enjoy a panoramic bus tour past the stunning Parc de l'Orangerie, the European Parliament and the Place de la République followed by a walking tour through its iconic "La Petite France" district, which appears to have been lifted straight from the pages of a fairytale. You'll also see the Cathédrale de Nôtre Dame with its famous astronomical clock. The active adventurer can join a guided bike tour, which also takes you through the Parc de l'Orangerie
Day11
Sunday, April 29, 2018 | Breisach, Germany
Step back in time with a visit to the enchanting Alsatian town of Riquewihr. Having survived WWII without being badly damaged, this charming medieval hamlet looks much like it did in the 16th century. On your walking tour, admire historic architecture and surrounding vineyards as well as famous sights, such as the Dolder Gate. Alter- natively, you may wish to visit Freiburg, founded in 1120 and home to the Freiburg Münster, a Gothic cathedral said to have "the most beautiful spire on earth." Those wishing a more active excursion can cycle through the countryside. (B,L,D)
Day12
Monday, April 30, 2018 | Basel, Switzerland – Disembarkation
Disembark after breakfast. Prepare for your departure and return home!
Cruise Itinerary:
View your ship:
www.amawaterways.com/ships/undefined
View deck plan:
AmaLea_AmaKristina_AmaViola_AmaStella.pdf
View gallery:
www.amawaterways.com/ships/amastella-river-cruise-ship/gallery
Know Before You Go
We promise to do all within our power to assist you with any questions or concerns you may have. Please feel free to contact us, please note should any problems arise during your trip you should first contact your local emergency contact in your destination country or the 206 Tours.
Read more
Book your trip now
Options and upgrades
*All pricing is per person
Single Supplement / Private Room Upon Request
Business Class Trans-Atlantic Upgrade (One-Way) Upon Request
Business Class Trans-Atlantic Upgrade (Round-Trip) Upon Request
Upgrade to Catergory BB Room
*All pricing is per person
Category BB Room Upgrade (Per Person) $700.00 (USD)
Special Clergy Discount
Discount is offered to ordained clergy in the Roman Catholic Church: deacons, priests, or bishops belonging to the diaconate, the presbyterate, or the episcopate, respectively as well, as Catholic Sisters.
contact us
Earn a Free Trip
For groups of 20 or more, you may choose your own departure and earn FREE trips.
contact us
Would you like to arrive
earlier or stay later?
Let us know at time of registration, we will reschedule your airline reservations pending availability at no additional fee (these options will be available to you when you register online). Let us know if you need assistance with pre or post stay at hotel. Simply Contact 206 Tours: 800-206-TOUR (8687) or sales@206tours.com